Our Veterinarians
The Sumner Veterinary Hospital team of skilled veterinarians welcomes you to our practice; proudly serving the Sumner area. At Sumner Veterinary Hospital, it is our daily privilege to provide quality vet care to your cherished pet, with compassion and competence. We hope to ensure a positive impact on our patients, pet owners and the local community.

Dr. Art Khachatryan
Medical Director, Veterinarian
Dr. Art Khachatryan is the Medical Director and a full-time Veterinarian at Sumner Veterinary Hospital. Every day, he looks forward to the opportunity to help enrich the bond between pets and owners by combining his passion for veterinary medicine with his adoration of animals!
Dr. Khachatryan received his veterinary degree from Clemson University and the Veterinary College of the Republic of Armenia. He also holds a PhD in molecular epidemiology from Washington State University. He completed an externship in small-animal neurology and neurosurgery, as well as an internship in small-animal medicine and surgery, at Washington State between 2006 and 2008. In addition, Dr. Khachatryan studied acupuncture at the Peaceable Acupuncture Clinic in Seattle, helping to expand his knowledge and skill of alternative medicine therapies.
Dr. Khachatryan arrived at Sumner Veterinary Hospital in 2008 after completing his internship. He has special interests in orthopedic and soft-tissue surgery, neurology, exotic pet medicine, and emergency care. He's also passionate about continuing education, and regularly attends courses around the country to further his knowledge.
At home, Dr. Khachatryan has two cats who always teach him a thing or two about life. In his spare time, he enjoys hiking in the beautiful Northwest, swimming, and practicing Aikido.

Dr. Jennifer Bronk
Veterinarian
Dr. Jennifer Bronk has always enjoyed medicine and problem-solving; from a young age, she's been fascinated by the complex body systems of animals. For her, there was never any question that a career in the veterinary world was the perfect choice!
Dr. Bronk received her Bachelor's degree from the University of Maryland at College Park, then moved to California following graduation. For the next six years, she took veterinary classes part-time while lending her skills to various veterinary clinics, working her way up to the Veterinary Technician position. She was then accepted to the University of California at Davis to earn her DVM degree.
After graduating from veterinary school, Dr. Bronk moved to Washington State and completed a year-long equine surgery internship. After practicing as a large-animal veterinarian for two years, she switched back to small-animal emergency medicine full-time. In the fall of 2012, she joined the Sumner Veterinary Hospital family.
Dr. Bronk and her husband, Jesse, have a toddler named Nora and also share their home with a dog named Coal and a cat named Solace. They also own a thoroughbred horse, Connor, who Dr. Bronk adopted while she was an intern, as well as a miniature horse named Chilly Willy who may one day be Nora's first horse.
When she has a moment between her busy work and family schedules, Dr. Bronk enjoys staying active by running, trail racing, and snowboarding in the winters. She also likes hiking and sometimes even takes Nora along in the backpack!

Dr. Tori St. Cin
Veterinarian
Bio Coming Soon!

Dr. Cody Fielder
Veterinarian
Bio Coming Soon!
Dr. Jomo Edwards
Veterinarian
Dr. Jomo Edwards is an emergency veterinarian for Sumner Veterinary Hospital. Dr. Edwards was born, raised, and educated in New York. He fell in love with the PNW during a road trip in his undergrad, and vowed to come back. He decided to travel Africa for a year, and then decided to move to Tacoma and come work for SVH. Dr. Edwards knew he wanted to become a veterinarian after moving from the city to the country when he was in 2nd grade. He loved nature! He found the love for medicine in high school, and decided to combine the two!
Dr. Edwards went to the University of Rochester, then went to vet school at Cornell University, and did his internship with VCA Aurora in Chicago. This is where he found his love for ER medicine. He loves the excitement it brings and how it is ever changing and multidisciplinary.
Dr. Edwards is the youngest of four, his sisters are both teachers and his brother is an army pilot. He loves traveling, long distance trekking, soccer, weight lifting, and jiu-jitsu. He is inspired by tales of people taking risks in pursuit of their ideals. He feels his greatest accomplishment recently was completing an 8,000km solo trek across Africa.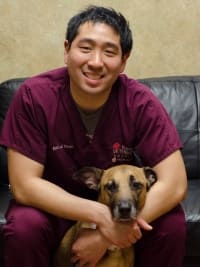 Dr. Eric Lui
Veterinarian
During high school, Dr. Lui was given an assignment to shadow someone in an occupation that interested him. He chose to shadow a veterinarian who worked near his home. After Dr. Lui had completed the assignment, the clinic offered him a job! He signed on as an assistant, and so began his veterinary career.
Dr. Lui grew up in Ellicott City, Maryland. He attended Pennsylvania State University for his undergraduate studies and the Ross University School of Veterinary Medicine in the Caribbean for his DVM degree. After working as a day practitioner for three years, Dr. Lui decided to follow his inkling for emergency medicine and transitioned into a night-time emergency position.
As a vet, Dr. Lui enjoys using a hands-on approach to fix problems. He's especially passionate about dentistry, as the mouth is one of a pet's most important parts. Above all, Dr. Lui enjoys the variety that his job brings—on any given day, he serves as a surgeon, radiologist, anesthesiologist, dentist, dermatologist, neurologist, cardiologist, and much more!
In his free time, Dr. Lui enjoys the excellent fishing and crabbing opportunities that Washington State has to offer. He also enjoys hiking, camping, and spending time with his three dogs—Shawty, Kino, and Coco—and his friendly cat, B-Dubs.

Dr. Elena Millard
Veterinarian
Dr. Millard is a full-time emergency and general practice Veterinarian at Sumner Veterinary Hospital. She received her veterinary degree from Michigan State University in 2016. During veterinary school, she completed externships with the Wildlife Conservation Society, the USGS in Hawaii, and Oregon Department of Fish and Wildlife. She also holds a PhD in Pathobiology which she earned through her research on viral diseases of fish with the Aquatic Animal Health Laboratory at Michigan State University.
Dr. Millard's professional interests include emergency medicine, dermatology, clinical pathology, soft tissue surgery, wildlife and aquatic animal medicine and conservation. At Sumner Veterinary Hospital, she treats a wide variety of species including small mammals and reptiles.
Outside of work, Dr. Millard enjoys paddle boarding, hiking, fishing, and spending time in nature. Originally from Northern Michigan, she now calls Washington home with her two indoor kitties, Tiger and Lucy.
Dr. Erika Nelson
Veterinarian
From the time she was eight years old, Dr. Erika Nelson has had a passion for helping animals and has wanted to be a veterinarian.
Originally from Poulsbo, Washington, Dr. Nelson attended Central Washington University where she received a B.S. in biology and volunteered as a chimpanzee caregiver at The Chimpanzee and Human Communication Institute. Following that, she attended Washington State University where she received her DVM. During her time at WSU, Dr. Nelson developed a strong interest in Chinese and alternative medicine. She has received certifications in small animal veterinary acupuncture and food therapy from the Chi Institute in Florida. She is also certified to perform chiropractic adjustments. Dr. Nelson has great enthusiasm for combining both traditional and alternative forms of medicine so that patients receive the best possible support.
Dr. Nelson and her husband have two pets at home. Mosi is a boxer/pit bull mix who loves playing ball and is fiercely loyal. Juma is a tabby cat who keeps Mosi in line and loves playing in bathtubs.
Outside of work, Dr. Nelson enjoys backpacking, hiking, and cycling.
Dr. Amy Smith
Veterinarian
As a child, Dr. Amy Smith started working with her aunt, who was a Veterinary Technician. It wasn't long before Dr. Smith's early experiences in veterinary medicine inspired her to pursue the field full-time.
Dr. Smith is a native of southern California. She received her Bachelor's degree from Humboldt State University, then took her pre-veterinary courses at California Polytechnic Institute in Pomona. After earning her veterinary degree from Oklahoma State University, Dr. Smith and her husband came to the Pacific Northwest.
Dr. Smith joined the team here at Sumner Veterinary Hospital in early 2015. In addition to general practice, she's also fond of working with exotic pets; the variety of patients she gets to care for keeps things interesting! Dr. Smith also likes looking at slides under the microscope and explaining disease processes to clientele.
Like any animal lover, Dr. Smith has several pets of her own at home. She and her husband live with two cats, Dusty and Seamus, as well as a Meyers parrot and a 14-year-old tree frog.
Outside of her interests in veterinary medicine, Dr. Smith enjoys birdwatching and hiking with her husband. Her favorite trip was to Clark National Park in Alaska, where she and her husband went two full weeks without phones, roads, or trails!

Dr. Tyler Sugerman
Veterinarian
I was born and lived my entire life in California. After my internship, my wife and I decided we wanted to live somewhere greener and cooler. We visited family in Washington and instantly fell in love.
I have wanted to be a veterinarian since I was a child. Even when I was young, I felt a need to help animals since they couldn't help themselves.
I started working as a veterinary technician for 15 years and even went to school for it. I had always wanted to be a veterinarian, but never had the financial means to do it. My wife inspired me to pursue my dream and I went back to school to receive my bachelor's degree at San Bernardino State University. I was then accepted and went to school at Western University of Health Sciences in Pomona, California. After graduation I did a 1-year internship at Inland Valley Veterinary Services and Emergency. There I received real world emergency cases and became confident in emergency surgeries.
My interest has always been in emergency medicine. I enjoy the quick decision making process and the ability to save someone's best friend. It's heartbreaking when I cannot save them, but I am able to use my experience of losing my best friend to help others in their time of need. I am also passionate about seeing exotics on an emergency basis. I received an award from the Veterinary Insurance Service Company for excellence in business and client communication my senior year of vet school. I also belonged to a wide range of clubs from the American Veterinary Medical Association to the Zoo, Wildlife, Avian, and Marine Mammal Association.
I have a wife who is a nurse and a stay-at-home mom now. I also have two boys, a preschooler and an infant. My oldest enjoys construction vehicles, emergency vehicles, singing and his little brother. His favorite thing to do when he comes to visit me at work is to "fix" the animals my listening to their heart with a stethoscope. My youngest son loves his big brother, smiling at daddy, and listening to Frank Sinatra. We have a full household with 1 dog-Bessie a 13 year old Rat Terrier, 2 cats- Beta(6) and Boris (16), and a chameleon.
I love doing new fun things with my family and cooking. Our son enjoys being outdoors, which gives us motivation to go on hiking adventures. My wife and I are big foodies and love trying new foods. I particularly love trying new coffees. When we were in Spain for our honeymoon, it was over 100 degrees and I made her stop at a coffee shop so that I could try one last hot coffee

Dr. Xenia Zawadzkas
Veterinarian
Dr. Zawadzkas is an Associate GP veterinarian with Sumner Veterinary Hospital.
Dr. Z grew up in Albuquerque, NM, then went to NMSU for her undergraduate studies. She got into vet school at OSU, then moved to the NW in 2000, where she met her husband in Corvallis and have stayed in the NW ever since! They lived in Portland OR for about 8 years then decided to move to Sumner to be closer to her husband's family and friends. She also went to WSU for her small animal studies because at the time OSU only had a large animal hospital. So she actually went to both vet schools.
Dr. Z. truly love being a GP- getting to know clients and their companions is fun and rewarding. Watching kittens and puppies grow up and developing a plan to keep them healthy is very satisfying. She enjoys educating clients about preventative care, and finds parasites particularly interesting! She also enjoys dentistry and would like to learn how to do root canals eventually. She find the overpopulation problem particularly pressing, and as a veterinarian feel obligated to help encourage spaying and neutering.
Ever since she was a little girl she's always wanted to be a veterinarian. She has always loved animals and wanted to know more about them and be with them as much as possible. She was also interested in outer space and being an astronaut, but gets motion sickness very easily so she decided animals was the way to go.
Her husband is a hydrogeologist for the Port of Tacoma, and they have two daughters who are in elementary school. Our girls love to dance, do gymnastics, swim, and be creative. Her in-laws also live close by and they love spending time with them. They have a 16 yo MN tabby cat, Gabriel who is in chronic renal failure and arthritic. He is still happy though and snuggles every night. They also have Sookie a 5 yo FS black cat who is feisty and aloof, but will tolerate you picking her up like a baby with lots of purring. She also has 6 hens!
Most of all, she really love spending time with her family. Going on trips together (big or small) is one of her favorite things. She also enjoy art- especially painting pet portraits (water color/pastel), and she is an Art Docent at her girls' school. She love music- both listening and playing- and plays the flute. She enjoys organic gardening, running, reading, hiking, camping, technology, movies/TV, shoes, cooking and baking. She loves her job and is grateful to be able to work a schedule where she can happily balance work and home life.